LoHud.com "Armonk woman uses voice talents to raise money for children"
BY ELIZABETH GANGA • EGANGA@LOHUD.COM
JANUARY 3, 2010
LoHud.com
ARMONK — The day after terrorists attacked the World Trade Center, Dr. Kathy Reilly Fallon headed down to the Jacob Javits Center in Manhattan to offer any help she could as a foot and ankle surgeon to the emergency personnel and construction workers looking for survivors and recovering bodies among the rubble. Soon Fallon was spending three days a week at St. Paul's Chapel across from Ground Zero tending to cuts, blisters and tendinitis in the workers.
"It was a very emotional time," she said. "But yet it was a very spiritual time for me."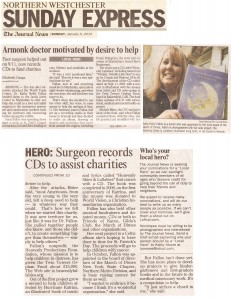 Fallon, now 41 and practicing medicine in Manhattan, spent about eight weeks volunteering, and when she was done, she still felt there was more to do.
That's when she decided to use her other skill, her voice, to raise money to help the orphans of Sept. 11. Her husband, James Fallon, had set up a recording studio in their house in Armonk and they decided to make an album, drawing on singers and musicians they knew from around the region, including Frank Pellegrino, the actor and co-owner of Manhattan's famed Rao's Restaurant.
The result was a CD called "Heavenly Lullabies" including tunes from "Twinkle, Twinkle Little Star" to music by Chopin and Brahms, 24 in all. The development of the CD culminated on Sept. 11, 2003, with a concert in Manhattan with the money from ticket and CD sales going to the Twin Towers Orphan Fund, based in Bakersfield, Calif. The fund helps orphans of 9/11 with educational, medical and mental health expenses.
Michele Ritter, the CEO and president of the fund, said when Fallon contacted them with the idea, she felt grateful and identified with her desire to help.
After the attacks, Ritter said, "most Americans, from the very young to the very old, felt a deep need to help — in whatever way they could. That's how we felt when we started this charity. It was new territory for us, just like it was for Dr. Fallon. She pulled together people she knew, and those she didn't, to create something bigger than themselves — simply to help others."
Fallon's nonprofit, the Heavenly Productions Foundation, whose mission is to help children in distress, has given the Twin Towers Orphan Fund about $15,000. The Web site is heavenlylullabies.org .
Out of the first project grew a second to help children affected by Hurricane Katrina, an illustrated book of music and lyrics called "Heavenly Skies & Lullabies" that comes with a CD. The book was completed in 2006, on the first anniversary of Katrina, and the money was donated to World Vision, a Christian humanitarian organization.
Fallon has also held other musical fundraisers and donated money, CDs or both to Friends of Karen, Gilda's Club, the March of Dimes and other organizations .
Her next project is a Celtic album she's hoping to have done in time for St. Patrick's Day. The proceeds will go to help children with cancer.
In October, Fallon was appointed to the board of directors of the March of Dimes New York State Chapter, Northern Metro Division, and is busy raising money for them as well.
"I wanted to embrace it because I think it's a wonderful organization," she said.
But Fallon isn't done yet. She has more plans to develop projects to give kindergarteners and first-graders books and in the future to do medical missionary work. It's a compulsion to help.
"It just strikes a chord in me," she said.