ARMONK'S HEAVENLY PRODUCTION PROVIDES BACKPACK OUTREACH
by Nathan Bruttell 12/19/13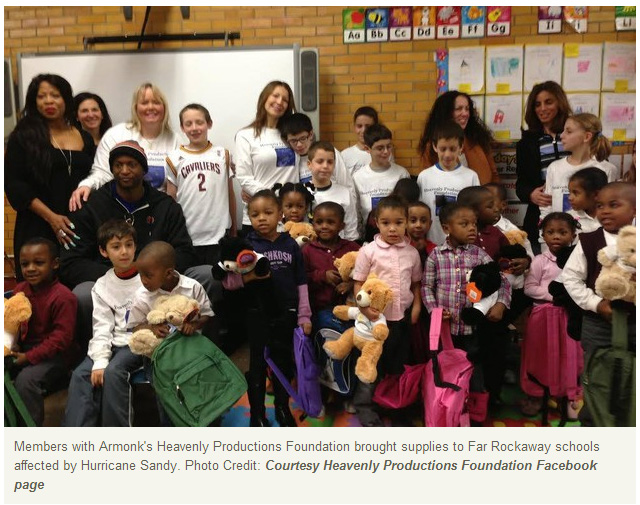 ARMONK, N.Y. — Members of Armonk's Heavenly Productions Foundation recently visited schools in Far Rockaway that were affected by Hurricane Sandy to deliver 900 backpacks, toys and school supplies.
Executive Board Members Lori Rocco, Kathy Reilly Fallon and John Wallace joined adult volunteers from Bedford and Pleasantville and youth volunteers from Armonk, Bedford and Pleasantville to visit Public Schools 106 and 197.
Heavenly Productions Foundation delivered 900 backpacks, teddy bears, books, CDs, school/classroom supplies and a basketball for each of the schools. John Wallace, executive board member of the foundation and a retired player for the New York Knicks, signed autographs and provided photo opportunities with students and the staff.
"It was a day filled with joy and love giving to these children in need that were affected by Hurricane Sandy," foundation representatives said. "Our Foundation believes in the words spoken from the great Martin Luther King Jr. that states 'Everybody can be great…because anybody can serve. You don't have to have a college degree to serve. You don't have to make your subject and verb agree to serve. You only need a heart full of grace. A soul generated by love.' We find this quote very fitting for today's backpack outreaches."