Harrison 8th Grader Making a Difference For Yonkers Students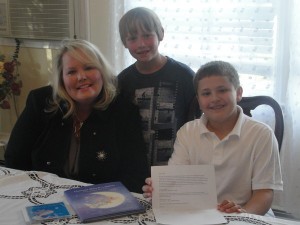 New sneakers, jeans and school supplies are all part of going back to school every fall for children throughout Westchester County.
Unfortunately, for some nearby families, back-to-school can be a stressful time as parents struggle to buy even the required supplies for their kids every year.
It's that contrast that has drawn Harrison 8th grader Kevin Enright to spend this summer seeking donations for the Heavenly Productions Foundation, which has pledged 500 brand new backpacks to Yonkers elementary school students this fall.
Kevin, 12, will send e-mails to area corporations as well as friends and family asking them to help the cause. After only one week he has already gathered $900 and hopes to supply about 150 backpacks by the start of the school year.
After volunteering this spring with a local church as part of his obligations for confirmation, Kevin said he was happy to continue his volunteer work with the backpack program this summer.
"Helping out was good, it was fun," he said. "They liked it so much—they were happy we helped out—so I decided I wanted to do more."
Kevin's mother, Nancy Enright, is a childhood friend of the foundation's founder Kathy Fallon. Fallon has been working with Kevin as well as her son James to fundraise this summer.
"I was very proud, I was surprised and proud," said Nancy Enright of her son's decision to volunteer. "I think it's very important because they actually see first hand something he can take for granted and other children can't."
The financial problems for some Yonkers families have been made worse in recent years. Fallon, who is from the Yonkers area, said she was surprised by how many backpacks are needed in just one school. Her foundation has also helped fundraise for children left orphaned after 9/11 and for the Hurricane Katrina relief effort, but said this summer she was drawn to Yonkers.
"They really need it, from what Mayor (Phil) Amicone told me, they're not doing well," she said. "A lot of the families are not doing well."
James, Fallon's son, is also pursuing donations in the northern Westchester communities of Armonk, Chappaqua, Pleasantville and Bedford. The two will combine whatever donations they are able to garner before giving them away. The specific Yonkers school is being kept a secret until the week before classes start this fall.
If all goes well with the backpacks, Fallon is hoping to use leftover money to fill them with pencils, notebooks and other supplies.
"It's nice for them to realize that there's unfortunate children and that they want to help these kids," Fallon said.
By Zach Oliva