Big Apple Parent & Westchester Parent Newspaper "Sweet Dreams"
Sweet Dreams


If you're commuting to or from Manhattan and hear melodic sounds drifting from the car in the next lane, it may well be Armonk mom, Dr. Kathy Reilly Fallon.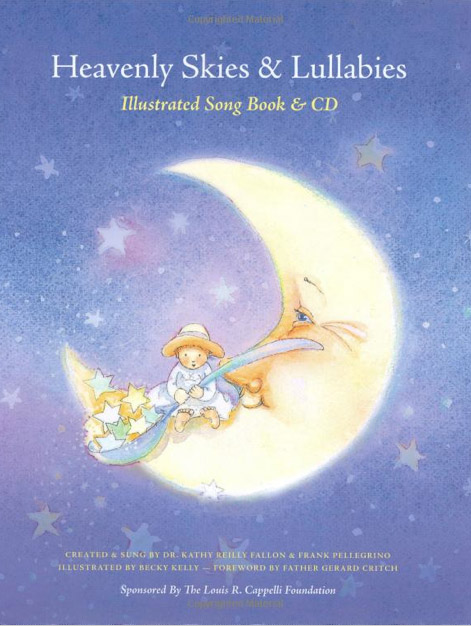 Dr. Fallon focuses on her surgical instruments once at work in her midtown practice.  But driving to and from Westchester, she uses the downtime to practice the songs she performs in concerts at nursing homes and children's health facilities.  And on her brand-new CD, Heavenly Skies & Lullabies. The new album contains 11 beautiful lullabies, all soothing enough to calm a baby's cries and a harried parent's nerves, and comes packaged with a book.
It is actually Dr. Fallon's second venture into the world of music publishing.  Her first CD,Heavenly Lullabies, was dedicated to the babies and orphans of 9/11. Dr. Fallon spent several weeks volunteering her medical expertise at Ground Zero.  Based in the safe haven of the untouched St. Paul's Chapel, she joined other volunteer health professionals to administer care to sore and injured rescue workers.  The experience was a turning point.  She saw the need to somehow help the children whose lives had been so altered as a result of that tragic day.
The Heavenly Productions Foundation was the result, and the first CD its opening fundraising project.  With a mission to "help children in distress", she initially thought about donating the net proceeds to the victims of the tsunami in Southeast Asia.
"But after Hurricane Katrina," she recalls, "the board members and I decided that we should look closer to home. After all, charity begins at home. We decided to contribute aid to the children who were victims of Hurricane Katrina. This money is not to build roads, it's for the children."
To that end, Dr. Fallon's foundation teamed up with World Vision, the relief and development organization that will use the money generated from the new book and CD to further the efforts of helping these children.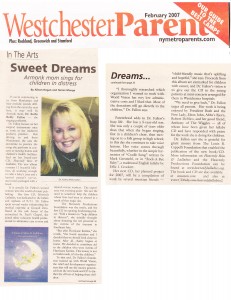 "I thoroughly researched which organization I wanted to work with. World Vision has very low administrative costs and I liked that. Most of the donations will go directly to the children," Dr. Fallon says.
Parenthood adds to Dr. Fallon's busy life.  She has a 5-year-old son.  She was only a couple of years older than that when she began singing, first in a children's choir, then moving on to a folk group in high school; to this day she continues to take voice lessons. Her voice comes through beautifully, whether in the simple harmonies of "Cradle Song" written by Mark Gersmehl, or in "Rock-A-Bye Baby", a traditional English lullaby by Effie I. Crockett.
Her next CD, her planned project for 2007, will be a compilation of work by several musician friends — "child-friendly music that's uplifting and hopeful," she says. Proceeds from this album are earmarked for children with cancer, and Dr. Fallon's vision is to give out the CD to the young patients at mini-concerts arranged for them in Westchester hospitals.
"We need to give back," Dr. Fallon urges all parents.  Her work is being enjoyed by President Bush and the First Lady, Elton John, Abba's Bjorn, Robert DeNiro, and her good friend, Anthony of The Wiggles — all of whom have been given her lullaby CD and have responded with praise for the work she is doing for children.
Dr. Fallon says she is grateful for grant money from The Louis R. Cappelli Foundation that enabled the publication of the new book/CD. More information on Heavenly Skies & Lullabies and the Heavenly Productions Foundation can be found at www.heavenlylullabies.org. The book and CD are also available at amazon.com and also at www.CDbaby.com/heavenlylullabies2.