Westchester Business Journal "Working Women of Westchester: Kathy Reilly Fallon"
WORKING WOMEN OF WESTCHESTER: Kathy Reilly Fallon
By Iarocci, Mary Sue
Publication: Westchester County Business Journal
Date: Monday, March 31 2008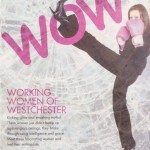 Dr. Kathy Reilly Fallon was in the middle of performing surgery on the morning of Sept. 11, 2001 when she was told to close up her patient and evacuate the operating room. Fallon, a foot and ankle specialist at Midtown Manhattan Health Center , spent the next two months at St. Paul's Chapel, providing medical treatment for workers at Ground Zero.
By December, Fallon, whose son James was 6 months old at the time, started thinking of ways to help the babies whose lives were impacted by the attack. "I was thinking, who will do something for the babies and orphans of 9/11 – especially the babies that would be born without a father?" Fallon said. "I wanted to work on a project that would give healing to me after having worked at Ground Zero, but also help the precious little ones."
Fallon, a choir singer at St. John the Baptist Church in Yonkers since she was 5, had the idea of creating a musical collaboration of lullabies for charity.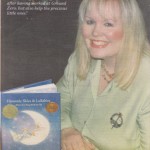 Two years later, after months of research, efforts to recruit artists and much time spent by her husband, James Fallon, to build a recording studio in their Armonk home, the Heavenly Lullabies CD was launched Sept. 11, 2003.
The 24-song CD, a collaboration of 21 musicians and artists, included recordings by Fallon and Frank Pellegrino, an actor on the HBO series "The Sopranos" and proprietor of Rao's restaurant in Manhattan.
"There was an outpouring of support," Fallon said.
The CD raised thousands of dollars for the Twin Towers Orphan Fund; Fallon said the Heavenly Productions Foundation has raised $25,000 for children in distress in total since the foundation was officially launched in January 2004.
After watching images on the devastation in New Orleans following Hurricane Katrina, Fallon's second effort began. She collaborated with an artist, an actor and a priest to create the "Heavenly Skies & Lullabies" illustrated song book and CD in 2006.
Proceeds benefited World Vision's  Hurricane Katrina Relief Fund. The foundation has also donated to Habitat for Humanity, March of Dimes and the New York Cerebral Palsy Foundation.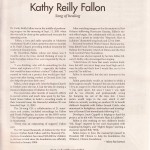 Fallon was always inspired by her late father, Edward J. Reilly, who encouraged her singing.
"I don't know if I have that much wisdom Kathleen, but all I can say is keep your head high and always be jolly and that's how I would like you to live your life," he told her.
Fallon is successful, but she isn't immune to the sexism.
Fallon particularly recalls an incident in which a male surgeon casually "bumped" her out of a scheduled 7:30 a.m. surgery for which she had booked a patient. "I was quite upset, but since I knew I was right and he was ethically and professionally wrong for bumping me out of the time slot, I knew justice would reign in the end, which it did." Fallon is currently working on another CD to benefit children's hospitals with Father Gerard Critch, who ministered to firefighters, steelworkers and investigators at Ground Zero immediately following 9/11.
Developer Louis Cappelli is helping to fund the project, as he did with -"Heavenly Skies & Lullabies'?
Fallon is also working on two children's books: "Oh, Snap!," inspired by her son's fascination with snapping his fingers, and "Night's Begun," starring a character named Billy Willy.
Fallon hopes to have the manuscript passed to President Bill Clinton to help his foundation, the William J. Clinton Foundation.