Heavenly Skies & Lullabies Illustrated Song Book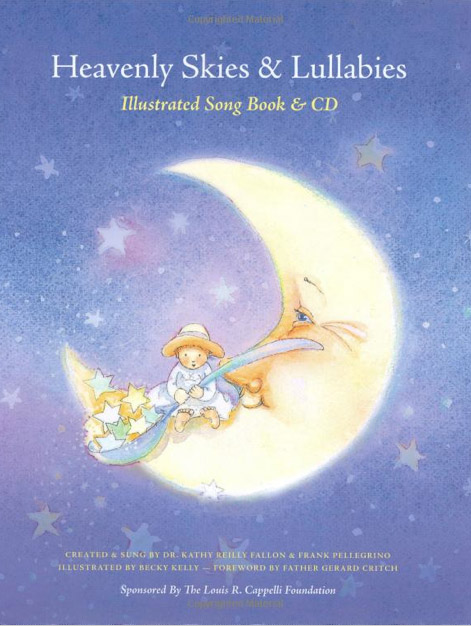 Open your mind and soothe your soul with these gentle bedtime melodies. These sweet and enchanting lullabies are heaven sent to help parents embrace their precious little ones and create a peaceful and relaxing home. We believe it is the right of all children to be safe, cared for and loved. With your help, we can bring lullabies to children in need everywhere. Sweet Dreams…
Heavenly Skies & Lullabies~Illustrated Song Book & CD is an Award Winning Children's book and CD.
AWARDS:
~Dragon Pencil Awards for Children's Books~
Gold Medal for Superior Illustrations
Awarded December 8, 2006
~IPPY Award Independent Publishers Book Award~
Bronze Medal–Children's Interactive Book.
Awarded June 1, 2007
~New York Book Festival Awards~
Honorable Mention
Awarded June 23, 2007
~1st Annual Moonbeam Children's Book Award~
Gold Medal for Best Illustrations by Becky Kelly
Bronze Medal for Best Children's Book with Music
Awarded October 18, 2007
REVIEWS:
Review From Publishers Weekly
Children's Audio/Video Notes
by Staff — Publishers Weekly, 3/12/2007
Heavenly Skies & Lullabies features physician Kathy Reilly Fallon and restaurateur Frank Pellegrino wearing their performers' hats and lending their voices to spare arrangements of 11 soothing lullabies for this book-and-CD package. All net proceeds from the project will go to World Vision, a Christian relief organization, specifically for the Hurricane Katrina Relief Fund. The illustrated book contains a foreword by Father Gerard Critch of the Diocese of Venice, Fla., and also includes a number of brief, child-friendly prayers as well as music and lyrics for each selection. Among the favorite lullabies on the recording are "Golden Slumbers," "Hush Little Baby," "Toora, Loora, Loora" and "Gaelic Cradle Song." (Heavenly Productions Foundation, www.heavenlylullabies.org , book-and-CD, $25 ages 2-8 ISBN 978-1-933626-06-2; Dec. 2006).
~Review of Heavenly Skies & Lullabies~
By Dr. Roberta E. Zlokower (Roberta On The Arts)
November 12, 2006
Created & Sung By Dr. Kathy Reilly Fallon & Frank Pellegrino
Illustrated by Becky Kelly
Foreword by Father Gerard Critch
Sponsored by The Louis R. Cappelli Foundation
Musicians: Andrew Bauer, Piano and Flute; Thomas Bitondo, Piano; Robert Cartolano, Wind Controller; Dr. Kathy Reilly Fallon, Vocals; Kenneth A. Farnum, Piano; Keith O'Neill, Violin; Frank Pellegrino, Vocals
Music Arrangements: Andrew Bauer, Thomas Bitondo, James J. Fallon, Kenneth A. Farnum
Dr. Kathy Fallon, a foot and ankle surgeon with a social conscience, has created a charitable opportunity to raise funds for the child victims of Hurricane Katrina. Dr. Fallon is a Board Certified foot and ankle specialist in New York City. She has previously published a recording, Heavenly Lullabies, to benefit babies and orphans of September 11, 2001. Proceeds of this CD go to the Twin Towers Orphan Fund. Working with Dr. Fallon on Heavenly Skies & Lullabies were actor/restaurateur, Frank Pellegrino, a star of The Sopranos and proprietor of Rao's Restaurant, the renowned, tiny Harlem restaurant, where Hollywood stars reserve one year in advance. Mr. Pellegrino has appeared in films by Woody Allen and Martin Scorsese, and he has published two popular Italian gourmet cookbooks, that coincide with his private line of quality food products. Canadian-born Father Gerard Critch served three years in the West Indies, to assist victims of Hurricane Hugo, and six years in ministry in Antigua. He has also served in numerous Dioceses, including New York and Florida.
This illustrated song book, another philanthropic venture of the Fallons and friends, has some of the most exquisite color drawings, by Becky Kelly, designed to enchant both children and adults alike. With eleven delightful songs and lullabies, some renowned, such as Rock-a-Bye, Baby and Hush Little Baby, and some lesser known, such as Cradle Song and Golden Slumbers, children and guardians can follow along, page by page, verse by verse, and sing, hum, or listen to richly recorded renditions. Dr. Kathy Fallon has a professionally vocal quality, nurturing and comforting, in clear, precise lyrics. Frank Pellegrino, film star of Goodfellas and Manhattan Murder Mystery, restaurateur, and actor in The Sopranos, must be heard in his excellent performance as narrator of Spoken Prayer, in tandem with Dr. Fallon, and as vocalist in Little Man, You've Had a Busy Day. He speaks and sings with strong, soothing sensuality and persuasive persona.
Children of the New Earth
Review By: Erin Kelly-Allshouse
Heavenly Skies & Lullabies Illustrated Song Book & CD Created & Sung by Dr. Kathy Reilly Fallon & Frank Pellegrino
Illustrated by Becky Kelly-Foreword by Father Gerard Critch
Open your mind and soothe your soul with these bedtime melodies. From Twinkle, Twinkle Little Star and Hush Little Baby to the Gaelic Cradle Song, and Toora, Loora, Loora. You will feel the tranquility and peace while listening as you put your child to bed with these songs. Illustrations and 11 songs from the book come together in an accompanying CD in the back of the book.
Purchase book on Amazon
Purchase at CD Baby
Purchase at Barnes and Noble
Purchase at Llumina
How I Met My One True Love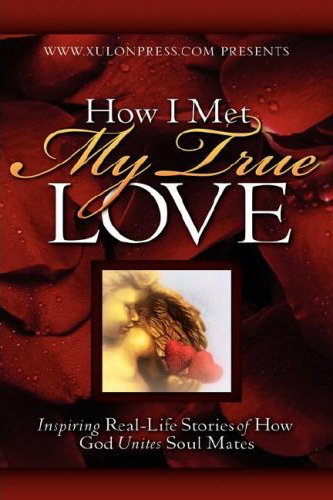 Inspiring Real-Life Stories of How God Unites Soul Mates. Published by Xulon Press
Purchase on Amazon
Purchase at Abebooks
Purchase at Alibris
Purchase at Powells